About Paphos Airport
Paphos Airport, being the biggest airport in Cyprus handles more than two million of guests a day, with our main visitors coming from Russia, Czech Republic, United Kingdom, Greece, France, and from more other countries. Tourism plays an important part in the Cypriot people's live and without the major airports, we would be limited to sea traffic. Cyprus is exporting a lot olives, olive oil, traditional sweets, knitting products, etc. all over the world. And all these exporting items are delivered from Cyprus to other countries using the airport which make the transfer process a lot easier and quicker. This is the reason why Paphos Airport is playing an important role in the economy and growth not only for Paphos city but also for the whole country.
The airport is located few kilometers outside the town center. It also include a civil military airport right next to the main airport which is currently used by Cyprus Army. During summer period the airport is getting very busy due to the high levels of tourism. This happens since the country is attracting many tourism because of the excellent weather and attractions of the city.
Hermes which is the current airport owner, took the ownership since 2006 and since that time the airport has been rapidly expanded. More specifically, a new terminal has been developed which is now allowing more flights and visitors to access the country. It also increased the interest of other airlines which started to create new flights to and from Paphos airport. Especially Ryanair showed the most interest for the airport by creating many flight to different destinations.
Airport Facilities
The airport is also equipped with many facilities which visitors can use. Starting from the terminal premises you will be able to use the 24 hours counter service where you can check in your luggage before you have a relax time at the lounge. You will be amazed from the amount of shops from where can buy various products, from electronic devices to snacks, sweets, accessories, traditional Cyprus products, etc.
Passengers can also use the free WiFi internet which is available all over the airport. There are also laptop tables where you can place and charge your laptop while you are using it in case you do not have enough battery for your journey. For the smokers who are travelling, the airport provides them a place where they are allowed to smoke. The cafe is located next to the main waiting area where the gates are located. You can enjoy few more minutes of the beautiful sun and enjoy a last drink.
For the families who are travelling with small babies, the airport provides excellent suitable facilities. The fully functional baby changing rooms provide always a clean environment appropriate for your baby. Breastfeeding mothers can use the breastfeeding service which is provided fee of charge for all the travelers. Some of the necessary equipment is also available at the breastfeeding rooms.
Find our more about –>airport transfer prices<– to and from Paphos International Airport
Find more information about DEPARTURES and ARRIVALS to/from Paphos Airport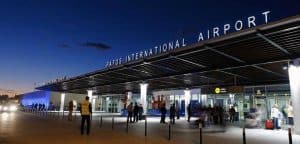 Contact Information:

Pafos International Airport
Tel.77778833 (local calls only)
+357 25 123022 (int. calls only)
Fax +357 26 007100
Email: [email protected]
[email protected]

Address:
Pafos International Airport
P.O. Box 62320 P.C. 8063 Pafos, Cyprus

Find more information here